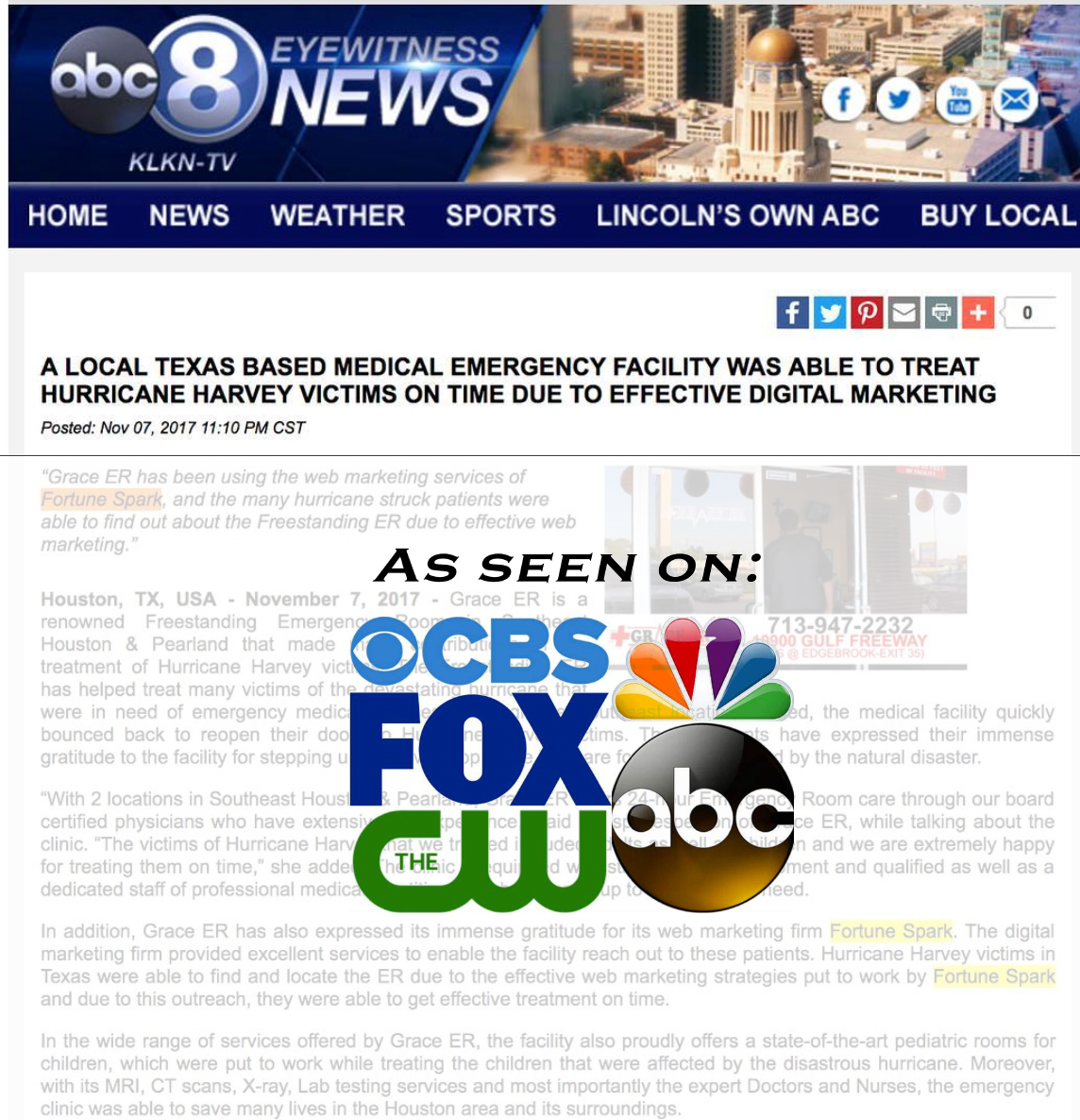 "Grace ER has been using the web marketing services of Leoserv , and the many hurricane-struck patients were able to find out about the Freestanding ER due to effective web marketing."
Houston, TX, USA – November 7, 2017 – Grace ER is a renowned Freestanding Emergency Room in Southeast Houston & Pearland that made major contributions in the treatment of Hurricane Harvey victims. The Freestanding ER has helped treat many victims of the devastating hurricane that were in need of emergency medical services. Although the Southeast location flooded, the medical facility quickly bounced back to reopen their doors to Hurricane Harvey victims. Those patients have expressed their immense gratitude to the facility for stepping up to provide top of the line care for patients affected by the natural disaster.
"With 2 locations in Southeast Houston & Pearland, Grace ER offers 24-hour Emergency Room care through our board-certified physicians who have extensive ER experience," said the spokesperson of Grace ER, while talking about the clinic. "The victims of Hurricane Harvey that we treated included adults, as well as children and we, are extremely happy for treating them on time," she added. The clinic is equipped with state of the art equipment and qualified as well as a dedicated staff of professional medical practitioners, who stepped up to help those in need.
In addition, Grace ER has also expressed its immense gratitude for its web marketing firm Leoserv . The digital marketing firm provided excellent services to enable the facility to reach out to these patients. Hurricane Harvey victims in Texas were able to find and locate the ER due to the effective web marketing strategies put to work by Leoserv and due to this outreach, they were able to get effective treatment on time.
In the wide range of services offered by Grace ER, the facility also proudly offers state-of-the-art pediatric rooms for children, which were put to work while treating the children that were affected by the disastrous hurricane. Moreover, with its MRI, CT scans, X-ray, Lab testing services and most importantly the expert Doctors and Nurses, the emergency clinic was able to save many lives in the Houston area and its surroundings.
To find out more about Grace ER and its services, please visit: www.graceer.com
Click here for the original publication.